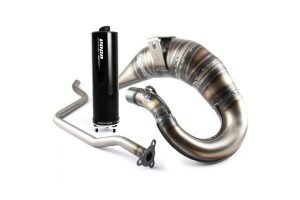 13.11.2017
The Voca Rookie Rises to the Top
The new Cross Rookie 50cc / 70cc by Voca Racing is a performance-boosting high-mount exhaust with CE-marking, available for many supermoto / enduro bike models - Beta, Rieju, MBK / Yamaha , Derbi.
MAXISCOOT.com – your specialist for racing equipment and spare parts
MAXISCOOT, founded in 1999, is today Europe's biggest online shop for 50cc scooters, 50cc mopeds, maxi scooters & geared mopeds.
You're taken good care of and can shop safely at maxiscoot.com. Employing professional logistics management ensures quick delivery with DHL and UPS. 16,000 positive customer reviews speak for themselves.
Apart from replacement parts and accessories for 50cc scooters, 50cc mopeds, maxi scooters & geared mopeds, we carry popular, up-to-date tuning parts and accessories for everything off-road as well. Be it tuning cylinders, racing exhausts, helmets and accessories, engine oil or rider gear, you can choose and order online from more than 30,000 products by more than 50 brands.
Under 50cc scooters, 50cc mopeds, maxi scooters & geared mopeds, not only top brands such as Stage6, MXS Racing, Yasuni, Top Performances, Malossi, Metrakit or Polini, but also numerous interesting up-and-coming brands such as Toxic, Choc, MucOff, Roost or MotoForce are waiting for you. Under Clothing & Accessories, brands such as Thor, Freegun or Monster with designs ranging from plain to sporty will make the heart of any racing aficionado beat faster. You can combine your new outfit with accessories such as caps, hats, backpacks or bags from our huge selection.
You'll definitely find what you're looking for at Maxiscoot.com!
Being experienced organizers of racing events and with our own internationally successful racing team, MXS Racing Dragteam, it goes without saying that we have a large selection of  racing  and high-end racing products,  replacement parts, spare parts and accessories. Maxiscoot is always keeping up with the latest trends and always has the newest developments and most up-to-date products, be it OEM replacement parts or racing parts. We recommend having a look at our "New Products" section on a regular basis, where we are constantly presenting newly released products.
Or register for our newsletter so we can keep you posted!
Have a good ride and fun and successful shopping at Maxiscoot.com!
Your MAXISCOOT Racing Team